January 22, 2005 Project Update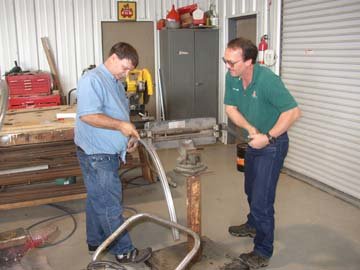 Team Fokker met on Saturday, January 22, 2005 to work on the Fokker Triplane project. Gregg Solberg and Ron Marcotte spent the day making two semi-circular flanges that will be mounted to the firewall. These parts are what the engine cowl mounts to, so they are heavy guage aluminum! The sheet was measured and cut, then bent into an "L" shape. Next, the strips were meticulously shrunk into a semi-circular shape to closely match the outer contour of the firewall. Roger and Gregg then rolled a lip into the flange while Ron beat the now slightly misshapen parts back into alignment. Roger had characterized the fabrication of these parts as an obstacle preventing further progress on the engine installation and fitting of engine controls. Job well done guys!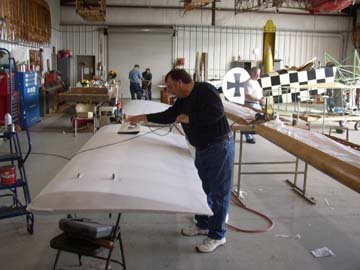 Wayne Jones arrived and took on the task of marking the rudder for the thin black border that is part of the color scheme. Roger will shoot the border when he shoots black for the crosses on the customer D.VII. Afterwards, Wayne joined Bill Broussard and Tom Gaylord in covering the lower and middle wing. The lower wing was covered, shrunk, and the first coat of dope went on. The middle wing was well along in the covering process, but was left unfinished (though Roger continued glueing down the edges, so it probably got finished as well). It was a great help that pre-sewn envelopes were available! (Thanks, Clara Mae!!)
The top wing will need to be mounted on the airplane and have all the control cables fabricated and hooked up, with pulleys installed, before we can begin covering this wing. The ailerons are covered and finished through silver dope. The horizontal stabilizer and elevator are done... covered and painted, and looking quite striking in the black and white stripes. The undercarriage is done, wheels covered and painted, as well as the gear legs and the axle fairing.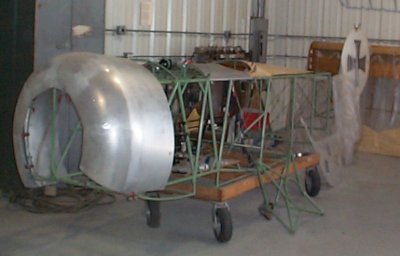 One step backwards was that Roger decided the fuel tank needed to be re-done... so it has been pulled apart to be re-fabricated. Some of the fittings are being re-done to improve the situation.