June 19, 2005 Project Update
Two weeks ago we had an unofficial work day when Keith Schill and Rudy Decker helped finish up a tough job that many of Team Fokker's volunteers had a hand in. They finished up the combination fuel/oil tank and Prosealed it. This has been a blocking point for much of the remaining fuselage work, so now that can be finished up.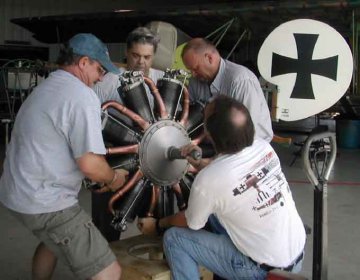 The newly rebuilt LeRhone rotary engine has arrived, and we had the thrill of opening up the box and taking it out. It had to be flipped over so we could get to the crankshaft. Tom Gaylord, Greg Solberg, Jim Borzansky, Dick Schenk, and Terry Bledsoe worked diligently on fitting the fuel tank and engine to the fuselage. Ron Marcotte continued working on the ammo chutes - fast becoming something of a specialty of his!