March 10, 2007 Project Update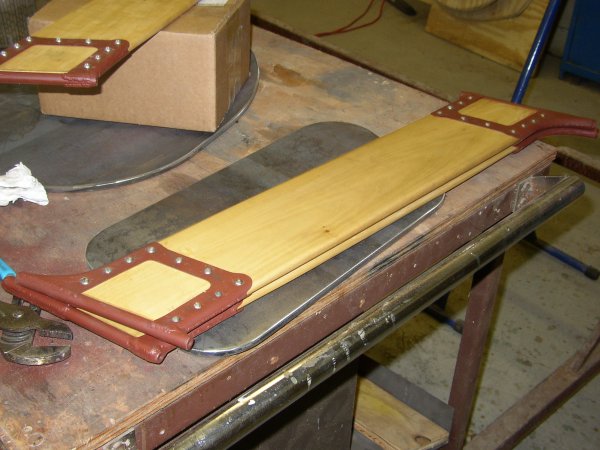 We had a good turnout - Tom Gaylord, Mike McCormick, Derek Staha, Ted Dawson, Ron Marcotte, Carl Canga and Dick Schenk appear to work on the triplane.
The Interplane struts are conquered - the wood struts were riveted to the metal sleeves this past weekend and are ready for final color and stenciling. Nearly everyone worked on these parts! But Ted did most of the actual riveting... by hand. After almost 80 of these things he had the process down pat!
The fuselage cowlings (the extensions of the forward cockpit coaming pieces) were final shaped, primered and riveted onto the existing cockpit coaming parts. These complex shaped panels fair the forward cockpit coaming with the middle wing. These are also ready for final painting.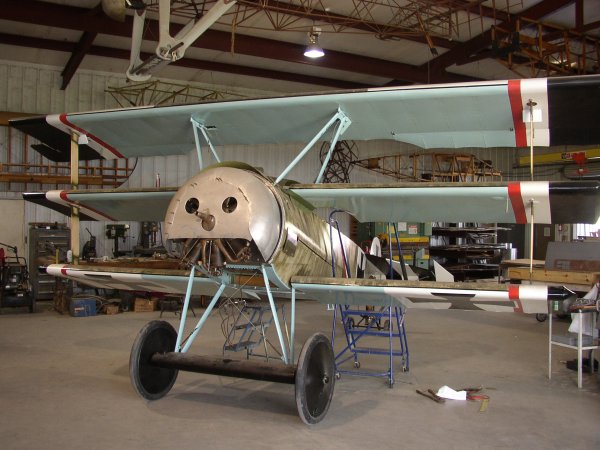 The engine cowling was dug up from its hiding place and it looks like the only way to salvage this part is to weld an extension around the perimeter so it will be too long again. I am sure we will be much more cautious in trimming it back to proper length this next time. Roger hopes to get the welding done before our next workday.
The magneto was removed from the Thomas-Morse. This unit will be fitted to the triplane's rotary engine. It is a known component, so when we start ground running the engine the ignition (or at least the megneto itself) won't be the problem when it refuses to start. Roger said this part is a mag from a WWII era ground unit. Roger twirled the mag by hand and the unit produced a fat spark that jumped a 3/8" air gap! Stout stuff! Roger will try to clean this unit up some before the next work day.
We also started the wingtip skids. The process started after lunch with a stop at local tractor supply store and buying two hickory ax handles! Mike McCormick started shaving them down into shape. Mike also started the hardware required to install these parts onto the lower wings.
Remaining items are: control column, engine cowling, engine control connections and a zillion other very minor issues.