June 30, 2007 Project Update
We had an excellent turnout last Saturday, with several of the Team's regulars attending plus several new guys! Dick Schenck, Carl Canga, Ron Marcotte, Tom Gaylord, Al Sumrall, Isaac Bridges, Bill Walsh, and Will Walsh were there as well as "newbies" Mike McMains, Sanford Swope, and Joe Matlock and his son Andrew.
Isaac Bridges making engine connections - oil feed to the crankcase, electrical connections to the magnetos, fuel vent line, and throttle linkage.
Tom Gaylord spent the day putting nuts onto the firewall/engine mount bolts! Fussy, fiddly and a pain tracking down tools. Roger stipulated castle nuts with cotter pins. Done and ready to fly!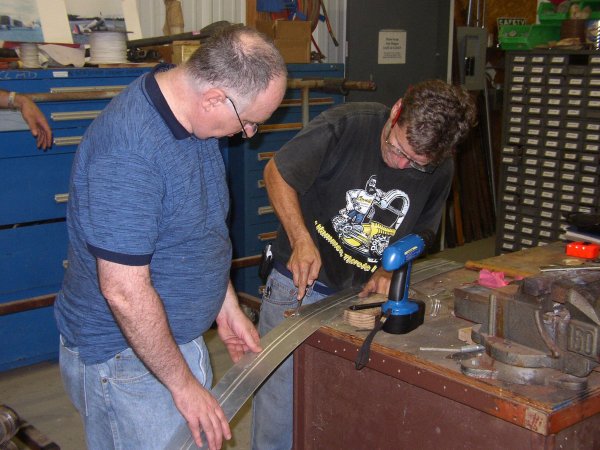 Mike McMains, with help from various folks, started fixing the engine cowl. Mike is a talented sheet metal guy and after he and Roger decided on an approach to correct the cowl's problems, Mike needed no further direction! Mike made good progress, and took the cowl home with him to continue working on it in his own shop.
Dick did his usual excellent job of supervising and keeping everyone honest, plus he conducted some detailed research in the librar
Ron Marcotte and Al Sumrall got after the control column and made good progress. They worked to get the wooden grip fitted, as well as performed some finishing work on the gun firing cables. Not sure what else they got accomplished.
Carl Canga worked on the wingtip skids, working with Roger to weld tabs onto the forward mounts. Carl also started bending up the rear mounts.
Sanford Swope worked on the windshield frame - saw him doing a lot of hand filing to smooth the burrs and finish shape the part.
Will Walsh spent some time polishing the Triplane's engine to help prevent rust, completing a job he'd spent time on the prior work day.