August 11, 2007 Project Update
We had an excellent turnout due to the appearance of four new Team members, Tom Miller, Dave Miller, and Richard & Mike (I didn't get Richard and Mike's last names, but they seemed to be part of the "Miller Gang"). Also on hand were Derek Staha, Ted Dawson, Sanford Swope, Ron Marcotte, Carl Canga, Terry Bledsoe and Tom Gaylord.
Richard spent the day stripping paint off the triplane's Spandau machine gun replicas. The guns had thick layers of black paint on them and started looking better as Richard got them down to bare aluminum! I do not know exactly how they will be finished, but that will be the next step.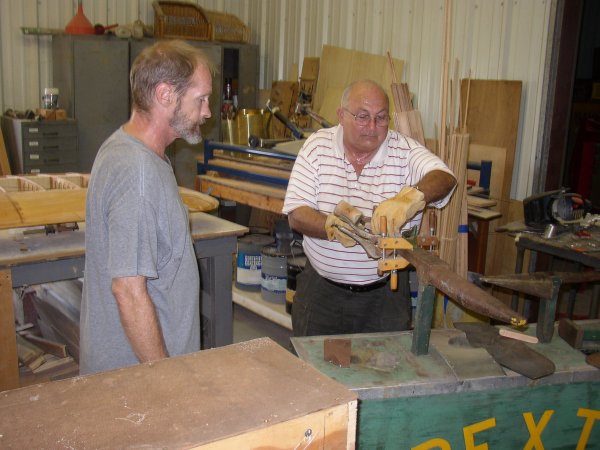 Mike and Sanford spent the day (?) working on the windshield. Roger told them to rake the windscreen back a bit and they did a great job, only to have Roger inform them he'd now like a little less rake! They fixed that as well, cut the lexan and drilled holes in the frame and the lexan. The metal is ready for final paint, but Roger wants to mount the windscreen on the fuselage cowling and repaint the entire unit.
Carl spent the day finishing the wingtip skids! He completed the brackets, mounted the units up to the aircraft then dissassembled them to varnish the wooden skids and prime and paint the brackets. These units should be ready for final asembly next trip!
Tom, Ted and Derek spent much of the day taking minor bits and pieces off the Thomas-Morse's engine, cleaning them up and installing them on the triplane. So we played in denatured alcohol all day trying to get that gummy castor oil off of everything. The pins that connect the push rods to the valve rockers were removed and cleaned, but not installed. Spark plugs were removed and cleaned, but again, not installed as several needed to be gapped. Ignition wires were removed, cleaned and staged with the plugs. There were flail restraints for the push rods that were removed, cleaned, and we did install these. Derek also spent some time polishing rust off our motor and wiping everything down with preservative.
Mike McMain has been working on the cowling at his home shop, and has the extension strip welded on. Things are coming along nicely!