August 25, 2007 Project Update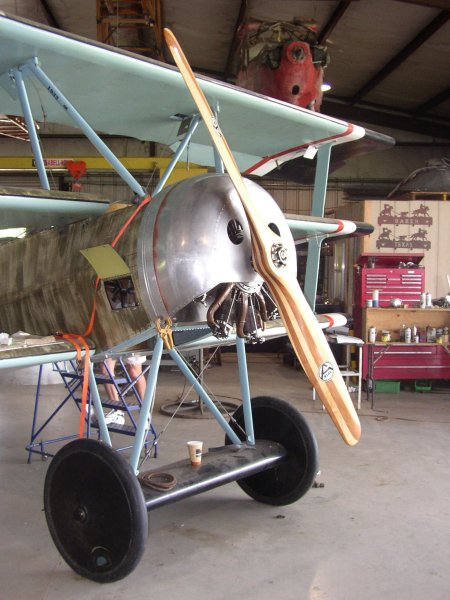 We had another great turnout at the work day yesterday. Tom Miller, Dave Miller, Greg Solberg, Roger Ritter, Mike McMains, Al Sumrall, Richard, Ron Marcotte, Bill Walsh, Will Walsh, Ted Dawson, Gary Goolsby and Tom Gaylord all showed up!
Additional progress was made on fitting the wingtip skids. They look like they are permanently attached, but the hanger bolts are not right... Roger needs to order some AN-3 bolts of the proper length to make this right. Also, the fuselage cowlings and fairings were sanded and zinc chromated in preparation for final painting. Roger has the paint and reports that he painted all the cowlings on Sunday, 8/26.
The high point was Mike McMains delivering the completed engine cowl! It fit extremely well and looks right! Some minor interference problems were identified and Mike and Al spent the remainder of the day making corrections.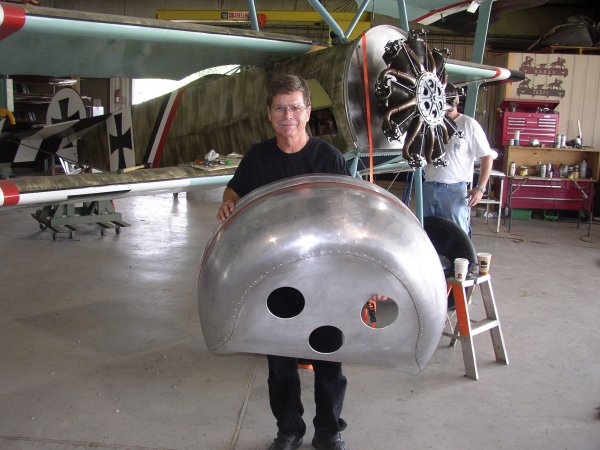 Much of the day's activities was geared towards an initial engine run. So folks were swarming all over the airplane making final connections and double-checking things. Ted Dawson worked for awhile on completing the intake tubes and getting those installed.
Things were a little weird... for instance we were unable to remove the prop key from the Tommy's engine, so Greg Solberg swapped out the forward engine case, transplanting the part, key and all, from the Tommy to the triplane!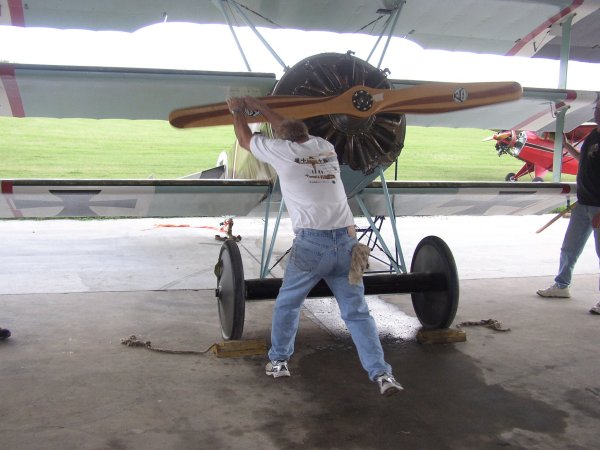 Finally, late in the day the airplane had fuel and castor oil put into the tanks and checks were made for leaks. An attempt was made to start the engine, without success. Appears to be a problem with the ignition, probably timing.
The bad news, is that with 4 work days scheduled before the triplane's debut appearance at the Randolph Field airshow on November 2nd & 3rd, the fuel tank has a leak. The leak appears to be from a rivet securing the internal plate that separates the fuel tank from the castor oil tank. It does seem to be on the bottom of the tank. On Saturday, Roger thought the only repair option would be to pull the engine out of the airplane to remove the fuel tank to slosh sealant around the bottom of the tank. The only good news in that scenario is that having the engine out of the airplane will make it easier to tackle the ignition problem.