September 15, 2007 Project Update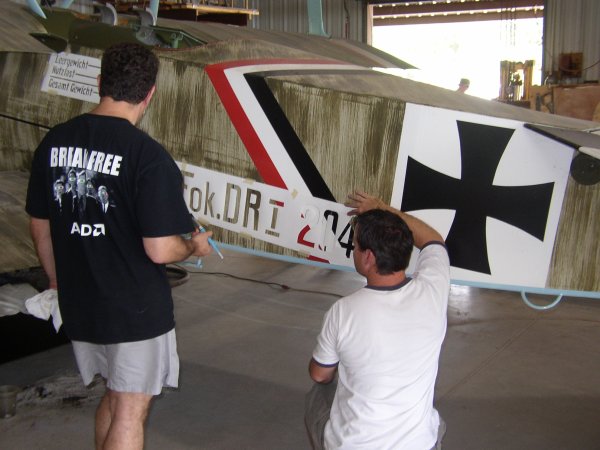 Quite a few team members showed up for last Saturday's work day! Sanford Swope, Ted Dawson, Dick Schenck, Mike McCormick, Derek Staha, Dave Miller, Ron Marcotte, Al Sumrall, Carl Canga, Bill Walsh, and Tom Gaylord were all present.
Bill Walsh drummed up three volunteers to assist with hangar cleanup. Al Sumrall had been out on Thursday and had started mowing and weed whacking and volunteered for more on Saturday! Dick Schenk also volunteered and for the life of me I canot remember the 4th man. Sorry! The crew started cleaning out debris from the old hanger, but spent much of their day removing rust from window frames in preparation for glass installation. They managed to complete four window frames.
Carl Canga and Derek Staha spent their day painting stencils on the airframe. Carl had made up the stencils. After some trial and error they got good results. Still a few stencils to go....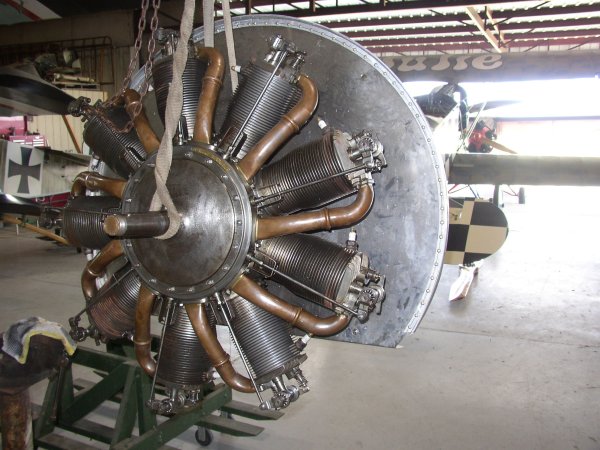 Dave Miller, Ron Marcotte, and Tom Gaylord spent part of the day attaching a metal strip to eliminate the gap between the firewall and the engine cowl to ensure a more secure attachment point for the engine cowl. The metal strip was half fabricated, so that job was completed. It was marked and drilled for riveting and then riveted to the firewall. The engine cowl was test fit afterwards.
Roger several others looked at the engine cowl for clearance again and decided to bump a tad more clearance in the corners. This was successfully done.
Sanford completed the triplane's windshield work, attaching the plexiglas screen to the frame. That top fuselage cowl is now complete!
The day was topped off by removing the engine from the aircraft so the fuel tank could be removed. Both tasks were completed... though this really felt like a huge step backwards. Roger will slosh sealant inside the tank before the next workday and will troubleshoot the rotary engine's non-firing issues. Hopefully everything will go back together next trip!