December 15, 2007 Project Update
Had a fair turnout for being so close to the holidays! In addition to Tom Gaylord, Terry Bledsoe, Ted Dawson, Dick Schenck, Ron Marcotte, Derek Staha, Bill & Will Walsh (and Jack), Al Sumrall, Sanford Swope, Len Garcia, and Jeremy Beheler showed up to work!
Although most of the day was devoted to hangar cleanup to make a place to work on the Thomas Morse Scouts, a little work was done on the triplane... Ron got Roger to weld the new mounting straps onto the wingtip skid front mounts, and then he cleaned them up and primered them with black Rustoleum.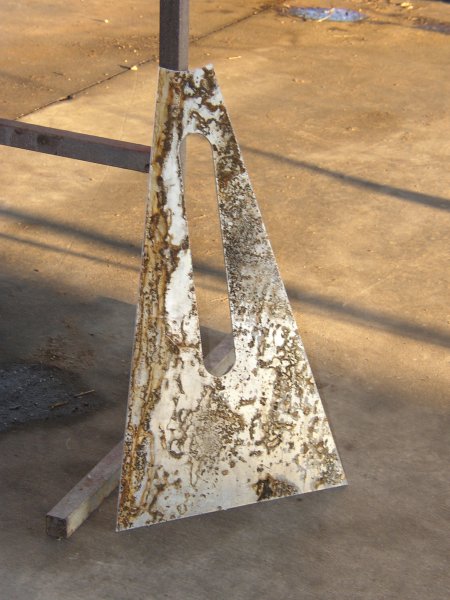 Roger has also come up with a triangular aluminum plate with a slot up the middle to restrain the tail skid from swiveling. It will be mounted resting on the lower longerons with the tail skid shooting through to the shock cords. Some "L" stock needs to be riveted onto the edges to transmit side loads into the lower longerons and another pair running along the slot (these will be surfaced with some superslick space-age stuff to ensure the tail skid doesn't hang up or get damaged). The plate will be secured in place by clamps on the lower longerons.