Fokker D.VII Project Update - 3 March 2002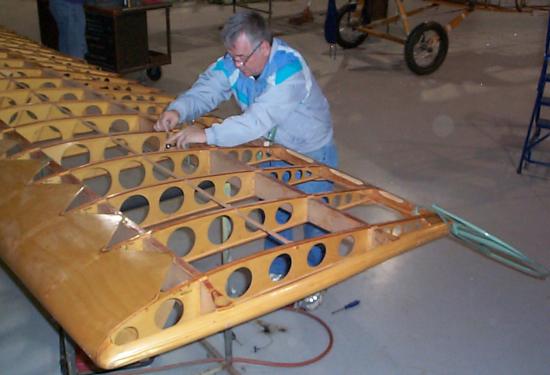 Tom Gaylord and Bill Broussard arrived at Kingsbury approximately 0830 Sunday morning along with howling winds and freezing temperatures. After the mandatory coffee and donut bull session work began in earnest. Tom and Roger spent a few minutes glueing a chair for Tom while Bill used the planer to reduce a couple of ash boards to wood chips. Several minutes were spent admiring Roger's new fake propeller for the New Mexico JN-3. There were a few flaws but were easily corrected. After all the thing will probably never spin faster than 3 to 5 rpm. Afterwards Tom and Bill spent the better part of the day attaching fittings to the upper wing. Internal bracing wires were run. Tom installed leather pads to separate and protect crossed wires and Bill safety-wired the turnbuckles.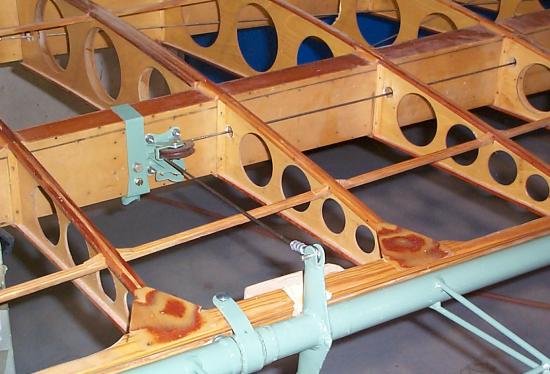 All internal aileron pulleys were installed. Aileron cables were attached to aileron control horns and run through the wings via holes cut into the rib webs. All fittings and attachment points were secured either by lock nuts or cotter keys. Meanwhile the wind howled outside. In fact it was so "biting" that it left a mark on Roger's cheek. The cold weather kept visitors to a minimum. One was a retired American Airlines mechanic who recently moved from Phoenix to Seguin. He was just travelling the country roads with his wife when he stumbled across the aerodrome. That would be a pleasant surprise for me. The other was a Boy Scout leader and a scout who were preparing for some kind of compass course on the property.
Roger Ritter also spent the day at the aerodrome doing research on the Rearwin 2000C Ken-Royce and helping with the aircraft as needed. The (non-flying) New Mexico JN-3 is taking shape. The fake engine has been installed as well as the fake radiator. The fuselage has had a layer of colored dope applied. After everything was finished the fork lift was started (after a bit of prodding) and the top wing was hung on the wall. It was about 7 PM when we pulled out and headed for home.