August 15, 2002 Project Update
Tom Gaylord and Bill Broussard arrived at OKA Friday at 4:30 pm, but didn't get much done. We did reinstall most of the aluminum straps that bind the long wooden piece to the horizontal stabilizer. We also measured the positions for the slots where the control cables will pass through the horizontal stabilizer. Bill did a little work on the library database.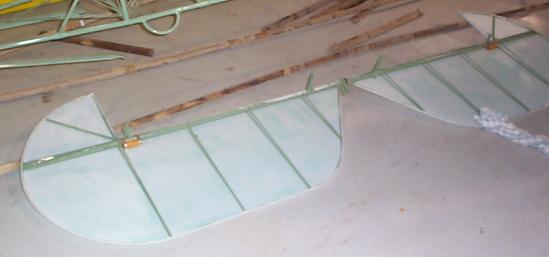 Saturday was much more productive. Tom and Bill began to take apart the Ranger engine that will be used to power the D.VII. Bill then joined Gary Marsden and both began work covering the horizontal stabilizer and the elevator with fabric. Tom continued working on the Ranger removing lots of nuts and washers. One ornery piece resisted removal. It was a large thin nut around the propellor shaft that bound the front crankcase segment. A special tool may have to be fabricated to remove it. Because of its recalcitrance Tom wasn't able to separate the halves of the crankcase. That remains for the next visit. Bill and Gary finished covering the horizontal stabilizer. Roger put the iron to it and shrank the fabric. Half of the elevator was covered and the other half will be finished next time. We decided that the stabilizer/elevator section will be painted blue, top and bottom. Everyone left Kingsbury at about 4:15 pm Saturday.