March 31, 2003 Project Update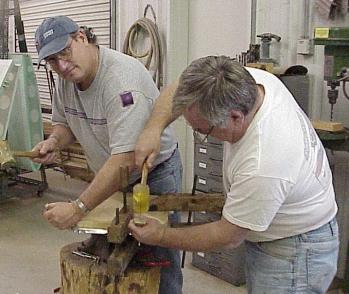 Tom Gaylord, Wayne Jones and Bill Broussard met at Old Kingsbury Aerodrome on March 29-30 to put in a work weekend on the Fokker D.VII. This was a weekend for systems work, and the team spent its time dealing with the cockpit control re-build and starting work on the fuel tank. This picture shows Tom and Bill using rubber mallets to persuade the sidewall of the fuel tank to maintain the proper shape.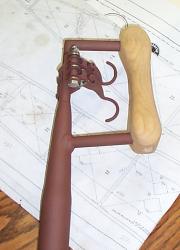 The triggers have been fabricated, primed, and attached to the stick grip. The two curved pieces are pulled by the pilot, and are attached to Bowden cables that actuate the guns.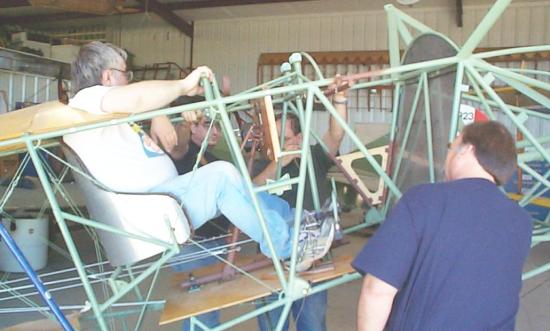 The major work on Sunday was to temporarily rig the elevator and rudder control cables to see if the interference problem had been solved. It hadn't. The team spent some time thinking about the problem and proposing various solutions. After a good deal of discussion and temporary tryouts of various fixes, we hit upon a set of changes that worked. The control stick was moved forward about an inch and a half, to reduce the interference between the aileron horns and rudder bar. This didn't quite eliminate the problem, so the rudder bar was raised 7/8 of an inch. With these two fixes, the two pieces no longer hit each other.
Once that was solved, the team mounted the upper crankcase and accessory section of a Ranger engine so that we can see how much room is in the engine compartment for an oil tank and other miscellaneous pieces. That pretty much closed out the weekend, and everyone departed for home by 4:30 Sunday afternoon.