April 26, 2003 Project Update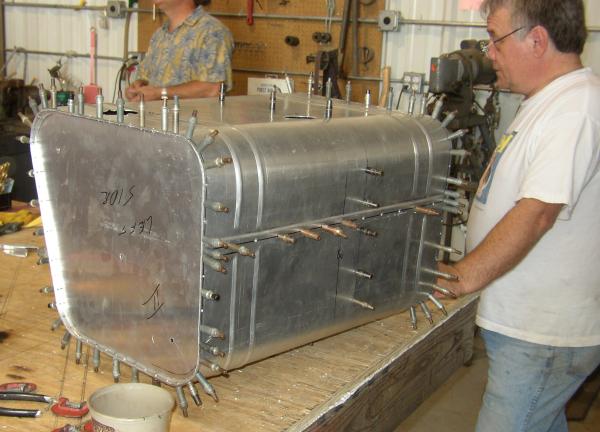 This past weekend work concentrated on manufacturing a new floorboard to accomodate the modified placement of flight controls. This was done to make the cockpit more comfortable for us men of more "manly" stature than the young men of old. Construction of the board was finished by Saturday evening but sanding for a final finish and application of stain and varnish will be done in Houston. Tom Gaylord and Gary Marsden struggled with the new fuel tank most of Saturday.
After Roger was convinced to cut the baffle holes in the corners of the baffle rather than on the sides things began to fall into place. By Sunday afternoon, with the help of Wayne Jones and Roger, the baffle and tank sides were all Cleco-clamped into place. Holes were then drilled into appropriate places for tank drainage, filling, and the fuel gauge. The next step will require the application of a sealant and then riveting everything into place.