June 21, 2003 Project Update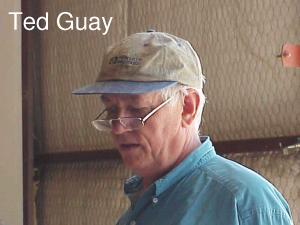 It was a productive weekend at the Old Kingsbury Aerodrome. Ted Guay and Bill Broussard worked on the fuel tank for the Fokker D.VII. They sloshed sealant about the inside of the tank and then Bill spent a couple of hours cleaning the outside of the tank in preparation for priming. He then coated it with Zinc Chromate and it was set aside and allowed to dry for a day.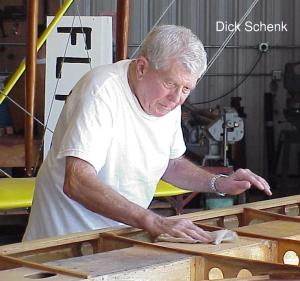 In the meantime, Ted joined Dick Schenk and continued working on the wings for the Fokker Dr.I triplane. Work continued on preparing the wing fittings. Soon the wings will be mounted to the fuselage for final installation of the wing-mount fittings. The outer strut fittings for the triplane were also located and will be installed at a later date.
Tom Gaylord finished working on the fuel cutoff valve that will be mounted to the instrument panel. He then joined Gary Marsden in the fabrication of an oil tank for the Fokker D.VII. Unlike the oil tank of the original, which was an integral part of the fuel tank, the oil tank for our airplane will be a separate unit. It will be mounted on the engine side of the firewall, while the fuel tank is mounted aft of the firewall. The tank is long and triangular in cross-section. It will hold approximately 4.5 gallons of oil.
Final preparation of the cockpit area was begun. Bill permanently mounted the control handle and gun triggers to the joystick. Bill and Arthur Jackson then fabricated new elevator control cables. The old cables were no longer functional since the entire joystick mechanism had to be moved 1.5 inches further forward to solve some clearance issues.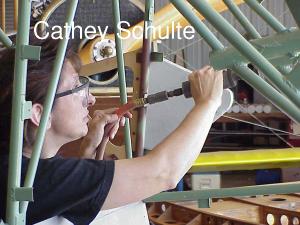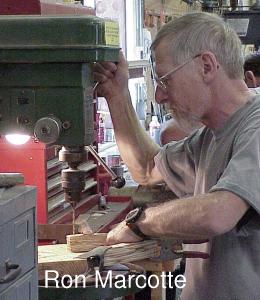 Cathey Schulte, Tom Gaylord and Roger Freeman continued work on the fuel tank mounting straps, mounting lugs and other associated cockpit hardware. Ron Marcotte dropped by, accompanied by his wife Claire, to display the ammunition feed chutes upon which he has been working at his house. He has one more to fabricate before he is finished.
Thanks to everyone who came by to help!