July 27, 2003 Project Update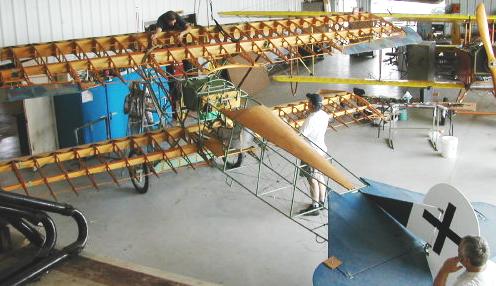 There was a lot of hard work by many volunteers at the Kingsbury Aerodrome this past weekend. Ted Guay was busy continuing his hard work on the Fokker Triplane Friday. Saturday saw Tom Gaylord, Dick Schenck, Chris Backer, Ron Marcotte, Roger Freeman, Wayne Belcher and Bill Broussard work to get the Fokker D.VII into shape. We also welcomed new volunteers Dennis Kirby and C.Q. McWilliams and they pitched in to work on the Fokker as well as crate up a LeRhone engine to be sent for reconditioning. The broken engine was originally installed on the Thomas-Morse, but is destined for the Fokker Dr.I triplane when it returns.
There is a good chance the D.VII may be used as a non-flying prop in an upcoming movie about Howard Hughes (Aviator) so completing the outward appearance of the aircraft is important. After the movie, work will continue to make the aircraft flyable.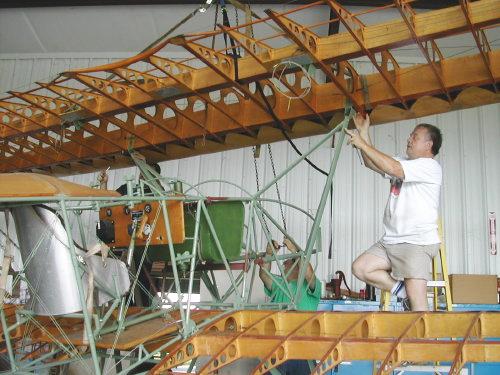 The top and bottom wings were removed from the wall and installed on the fuselage. The landing gear was removed and the fuselage rested on a dolly. Various projects continued throughout the day. The top wing's angle of incidence was set following the construction and installation of new bushings for the top wing's attachment points on the cabane struts. The previously installed units were somewhat undersized. The manufacture of the rear cabane struts were then finished.
Work was then able to start on the fabrication of the interplane "N" struts. The ball ends were polished and the threads cleaned up. Strut measurement took place and the components were cut and welded. Fabrication of these struts is a long and involved process, only one strut was fully completed by the time most of the volunteers left on Sunday afternoon.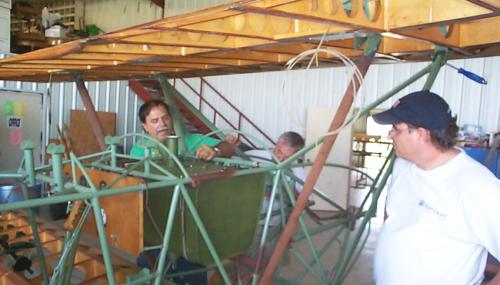 The aileron cables were completed and connected, making the ailerons functional. Sewing on the fabric baffle, which is installed behind the pilots seat, was finished and the fabric set into place for future installation. Some of the control cables were then inserted through the baffle. The ammunition feed chutes and "ammo can" were worked upon. The fuel tank mounting straps were completed on Saturday. Saturday afternoon Roger gave several rides in the Meyers to all interested volunteers. Richard Johnson arrived late Saturday. On Sunday, Richard cleaned and primed the straps as well as painted the fuel tank. He and Roger Ritter also spent time photographing the project during the weekend.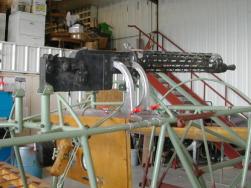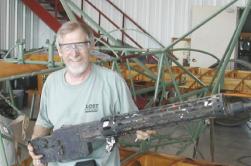 Thanks to everyone who came by to help!