September 21, 2003 Project Update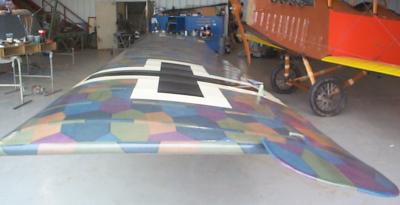 Tom Gaylord and Bill Broussard arrived just after 8 am and were soon joined by Wayne Belcher, Ted Dawson, Dick Schenck, Chris Backer and Roger Ritter. Wayne, Tom and Chris went to work putting the bungee cords on the landing gear. It's quite a job putting them on tight enough and making them snug and secure. These guys' hands were aching when it was all over, especially when having to do it twice.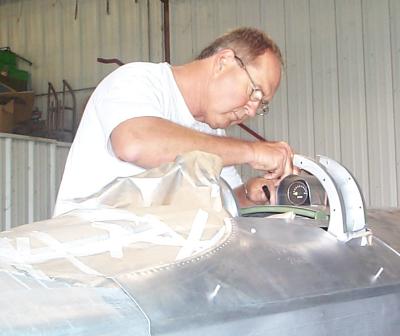 Ted Dawson worked on his fuel gauge fairing while Dick Schenck and Bill Broussard cleaned the edges of all the aluminum panels that had been fabricated up to that time. Bill assisted Roger Freeman in stamping Fokker ID information on each panel. The fuselage itself had a coat of aluminum dope and needed more but Roger said that the weather had been too damp otherwise the fuselage would already have been finished in blue and red. Bill then primed the fuselage frame that goes underneath the bottom wing once it is installed. Instead of covering it with fabric it will be covered with an aluminum panel. Wayne Belcher has already fabricated that panel.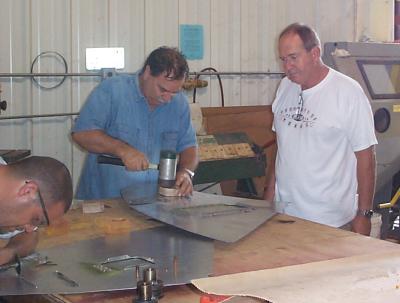 While that was happening several of the men formed the four louvers that are found on the side panels. After a break for lunch some discussion was carried out concerning the engine and the rest of the day was spent by everyone assisting Roger in the formation and installation of the top two aluminum panels that surround the top of the engine. After helping with these panels Roger Ritter and Tom Gaylord took pictures. With all those panels installed the fuselage definitely had that factory Fokker look about it.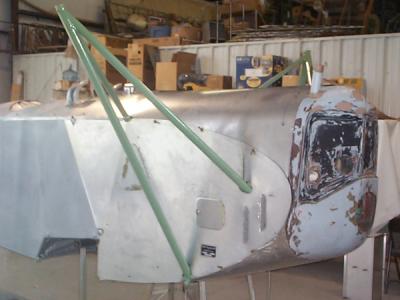 Tom and Bill will be back October 4/5 to help out during the final pre-Hollywood weekend. But Chris Backer mentioned that he will be there September 27/28 so I urge anyone and everyone who can, please come out and give him and Roger a hand.
The last pre-Hollywood weekend (Oct. 4-5) will find us fully assembling the aircraft so bring your cameras because we'll be taking it apart again for shipment.