January 17, 2004 Project Update
It was a foggy and dreary start to what ended up a pretty Saturday. We had planned for it to be a quiet weekend but many more people showed up to work than expected. As a result there was some wasted manpower, a problem we hope not to repeat. Thank you to everyone who brought new individuals, especially Keith Schill. In the future, if it is at all possible, please let Bill Broussard know in advance (and this goes for everyone), via email, if anyone plans to bring one or more guests. With this knowledge we can plan to have some projects available for people who may not have the skill or the desire to do something very technical.........did anyone say "Sandpaper?" But again our apologies for not keeping your buds busier. Hopefully we did not scare anyone off due to inactivity and we would certainly welcome anyone back.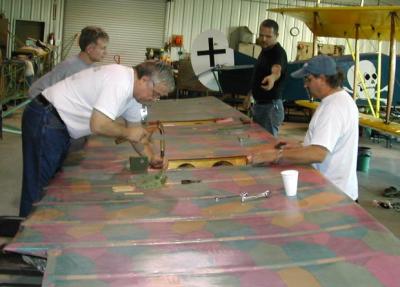 Much of the activity centered around installing new wing fittings for the Fokker D.VII. This involved some excruciating surgery on our bird performed by a variety of people. When we left, the cleanup of the spars had been completed and dowels glued into the original fitting holes. Ron Marcotte led a group of volunteers to reinstall the tail feathers on the D.VII as well as reattach the control cables, bracing wires and struts. He also applied the N numbers to both the D.VII and the Canuck. In his own words....."Keith Schill showed up with three other guys from Houston who pitched in to put the tail feathers back on the D.VII. Later we swapped the rudder cables then all cables were then adjusted and tied with safety wire. The "N1918H" numbers and new Fokker decals were also applied. The tail end should now be ready to go."
Chris Backer, Tom Gaylord and Ted Dawson started work on the Ranger engine for the D.VII. They began cleanup of the engine cases, checked out parts available in the storage attic and did a literature search for some nominal engine dimensions.
Gary Marsden met with Tom and other members to discuss possible "slight" changes to the skull on the D.VII fuselage. After some discussion it was decided to remove a couple of small lines painted on the skulls. Using very fine sandpaper Gary removed the lines and repainted the area with white paint. I think everyone is very satisfied with the results.
Ted Guay came by for what was his last trip to Kingsbury. He is moving to Seattle and we will surely miss his services. He still had time to give a tour of the facilities to several interested parties and work on the wheel covers for the D.VII. Best of luck to you Ted and hopefully we can keep in touch.
Our apologies to anyone we neglected to mention.