January 31, 2004 Project Update
Several members turned up at the aerodrome this weekend and we put in a lot of work. Roger, Ted Dawson and Dick Schenck worked all day Saturday taking apart and cleaning a Ranger motor. After cleaning a large and dirty dip tank they cleaned up the parts by soaking them in a fresh batch of carburetor cleaner. They also unwrapped and inspected a crankshaft that had returned from being refurbished.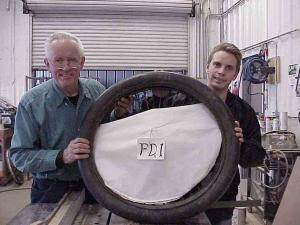 Ted Guay and his son Michael came by to finish their work on wheel covers. They've finished two complete sets, one for a D.VII and one for a Dr.I. It may have been Ted's last trip to Kingsbury as he is moving to Seattle by the end of this month. So long Ted, and thank you very much for your hard work and contributions. Hopefully we will be able to continue to use your sewing skills from long distance.
Ron Marcotte and I worked on the top D.VII wing preparing it for an installation of new wing fittings. We cut off the dowels that Tom Gaylord had glued into the old fitting holes and finished sanding the areas of the spar where the new fittings would attach. Ron and Bill Broussard cut and bent new fitting reinforcement straps. Bill finished Saturday night by varnishing the part of the spar on which the fittings will attach. Roger finished drilling holes in the fittings, bead blasted them, then primed them.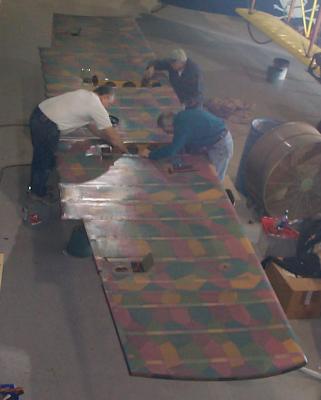 Sunday morning Bill worked a little bit making capstrip for the SE5a false ribs. Then Ron Marcotte, Wayne Jones, Dick Schenck and Bill installed all the new fittings and straps to the wing spars. This installation process took most of the day and I didn't walk out the place until 5 pm. The installation was done using undersize holes (1/4). These will have to be redrilled in order to use the proper size bolts. Dick Schenck then cleaned out the bead blaster and cleaned the reinforcement straps for priming and painting. Roger Ritter came by and took pictures for the website. He also assisted Roger in moving a new lathe.