February 21, 2004 Project Update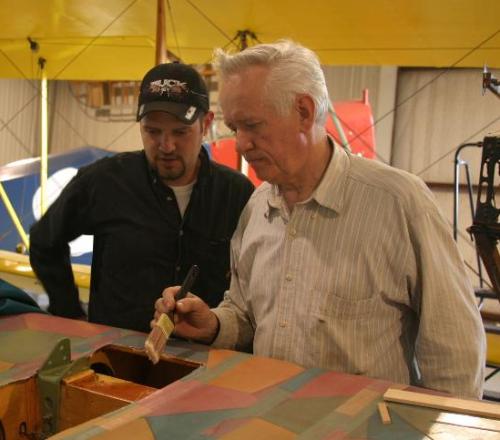 There was a big rocket shoot scheduled and that occupied most of Roger's time. Ted Dawson, Ted Guay, Ron Marcotte, Chris Backer, Richard Johnson, C.Q. McWilliams and Bill Broussard showed up and got involved with various projects, some of which involved helping with the rocket shoot and eating Roger's cooking. Ted and Ron did some minor woodworking repairing the access door frames that were broken during the recent "unpleasantness". Once the frames were repaired they cut patches for the bottom wings with care taken so that the lozenge pattern matched. Chris Backer glued the patches on. Later Bill tightened the fabric and applied coats of nitrate and butyrate dope.
Sunday, Wayne Jones and Keith Schill joined Chris, Bill and Roger to finish the patching of the wing. Top patches were glued on, shrunk and doped with nitrate and butyrate dopes. The wing has to be remounted to the cabane struts. We were thinking of doing it but another "project" got in the way Sunday.
Sunday work was terminated around noon. Bill, Roger and Chris left independently and met a few hours later at the southern border of Hobby Airport in Houston. There we loaded up an 85 foot mobile ladder from the American Zeppelin Corporation. The ladder weighed quite a bit and it took a couple of hours to load it onto a borrowed trailer. The tires were made of steel and the wheels were wood. Fortunately the width of the whole thing was about 0.75 inches less than the internal width of the trailer. It has to be seen to be appreciated. Roger dragged the thing back to Kingsbury in the rain, leaving the facility where we picked it up at around 5:45 pm. Chris Backer followed him back to keep an eye on the load. The facility where we picked this monster up is quite interesting. Imagine a facility like our beloved hangar at Kingsbury, but instead of old airplanes, it's filled up with old fire trucks and fire fighting gear. Quite a collection.