Volunteer Work Day
August 23, 2008
Reported by Tom Gaylord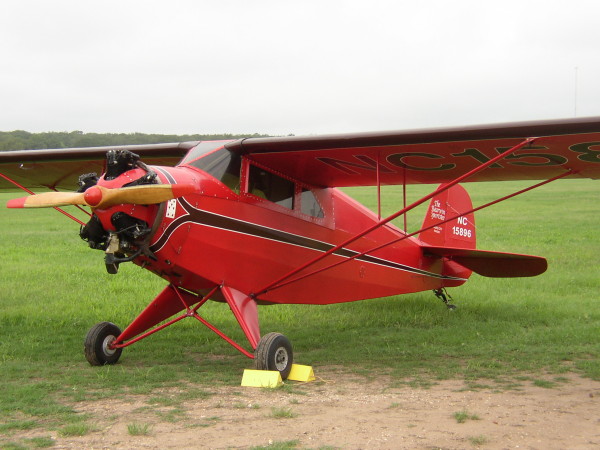 We had a pretty good turnout - including Bill Walsh in an orthopedic walking shoe to protect his broken toe! The group broke up into Team Vehicles, Team Airplane Maintenance, and Team Thomas-Morse!
Al Sumrall will need to fill you in about Team Vehicles specific progress during the day. I do know that several of the vehicles were started and exercised around the property. I also heard Al alternately laughing and crying about his discovery that the throttle linkage on the TT (?) was discovered to not be linked to anything. A cotter pin rectified the situation, but the lack of throttle may have been inhibiting the car's ability to start!
Team Airplane Maintenance rolled many of the airplanes out of the hanger and started them up. Sanford got the Rearwin Sportster started and ran it for awhile. The Cub was pounced upon by the "Wheelmen" who needed to repair a flat tire. The portable air tank certainly made the rounds!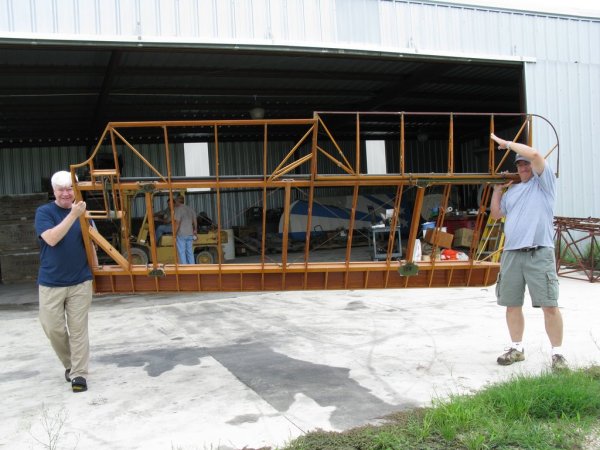 This group also assisted Roger in locating and removing from storage various bins with Thomas-Morse parts. Roger had a late morning visitor from England who is hot for Tommy fuselage fittings and parts. Roger is trying to work out a swap with him for Gipsy Queen bearings as well as other stuff to be decided later.
Mike McMains showed up in the afternoon with the Indian motorcycle fuel tank halves in hand. He spent some time adjusting their fit on the frame and then took them home to re-weld some seams that had opened up. The parts are gorgeous, of course....
Team Thomas-Morse did a little work on the tail surfaces already covered, but the real work involved pulling out the starboard upper wing half for T1 and getting it into the shop for refurbishing.
All external hardware was removed and the remaining fabric covering was stripped. The aileron was set aside and both parts (wing & aileron) were inspected for items requiring repair. The parts were cleaned and scrubbed with steel wool to prepare the wood for epoxy varnish. Both the wing and aileron were epoxy varnished - except for the components needing repair. In addition, two aileron envelopes were pinned up to be sewed.