Volunteer Work Day
December 13, 2008
Reported by Tom Gaylord & Al Sumrall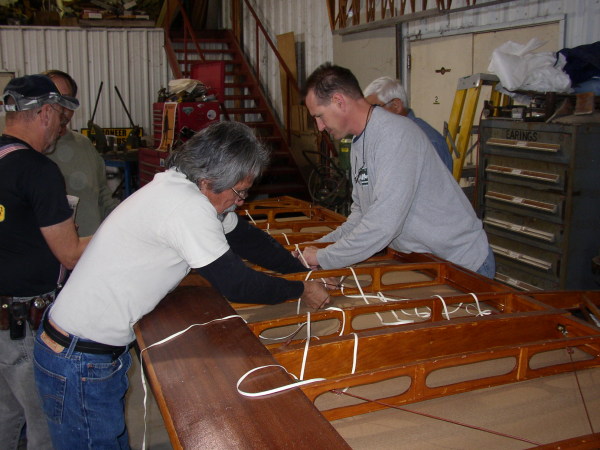 We had an excellent turnout for the workday. The team was split up into 3 major workgroups; Team Vehicles, Storage Hanger Group, and Team Tommy.
Team Vehicles - This group had a golden day, and as usual I'll leave it to Al Sumrall to fill us in on all the particulars. To the best of my knowledge they managed to get all Model Ts running, as well as the Quad!! I am not sure whether work continued on the Indian motorcycle, but I am told that machine is in the last stages of repair before being operable again.
Storage Hanger Group - Terry Bledsoe continued his work in re-organizing the storage hanger. Roger recently acquired some industrial grade racks and so these were built and stuff stored on them.
Team Tommy - focused efforts on pinning up fabric envelopes for the wings as well as continuing to prep the wings for cover. Tom Miller led this group! Dave Miller ran the sewing machine to complete the covers that had been pinned. I believe we now have covers for the T-1 wings. (Only one T-2 wing has been varnished, the other three remain in storage though the ailerons have been worked on). Prep work completed involved installing new fabric rib braces and covering the leading edge in cheesecloth to smooth the surface out.
The T-1 ailerons already had fabric envelopes ready, so these two components were covered and the first coat of nitrate dope was applied.
Team Vehicles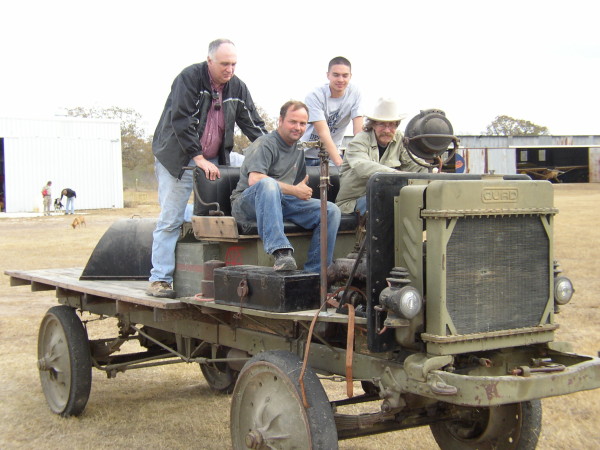 A good day indeed for Team vehicles, Tom. Team vehicles for this date was Al Sumrall, the two John Bush's, Lynn Howell, and Jim Miller. Things completed were 1) US ambulance now has four good tires (this has been a real siege getting this done), and it was pushed out into the sun and given a good cleaning inside and out by the two John Bush's and Jim. 2) the three running Model T's, thanks to John and Lynn were started and run and John gave lessons, as well as changing the oil in the wrecker whose oil has some water in it. 3) we all worked on the Quad, but John and Lynn did the effective work...and voila...the Quad started with very little argument and ran perfectly. All five of us took turns racing it around at a staggering pace, what? Maybe ten-miles an hour, but it seemed faster due to the height. Lynn's dog Bix, joined us and seemed pretty comfortable in the front seat. Lynn, a hot rodder, has the touch and got a bit more speed with the Quad in fourth gear, maybe 15 mph after the Quad was warmed up. Lynn, who has so much experience with antique vehicles is helping enormously with maintenance issues... we are learning to lubricate. Lynn keeps looking over at the aircraft with wistful eyes, but we keep distracting him with vehicle stuff. It was good weather, a bit windy, but warm enough to help the vehicles start.
The Indian work was delayed due to Ron not being able to appear on Saturday and he was sorely missed.
Those of you who missed out on a Quad drive need to jump on. A running Quad is a pretty rare vehicle. It has a more "modern" driving set up than the Ts with a clutch and gear shift. Plans are now to keep the Quad running each workday and start tweaking it both maintenance-wish and cosmetically. If things continue to go well, it will be appearing as a runner in May.
Another John, from Canada, is doing fantastic work on the FWD (a similar WWI truck to the Quad). We may have to have a race when both are running. Would be akin to watching sap form on a tree trunk but still great fun....we would have a convoy, but we wouldn't be showing up on Smoky's radar.
Finally, it was a great treat to see Steve's 1909 Thor IV Motorcycle. It's all apart now, needing a moderate restoration (most of the original parts are there) but it is a very historically significant MC, dating with the very first Model Ts and built within the first decade of true motorcycle developement. It still carries bicycle pedals! It will make a great addition to the vehicle fleet.
Additional News
The engine block for the Peitenpol Sky Scout is ready. This Ford Model "A" block had the crankshaft balanced, babbitts poured and align bored. Next step is for the engine to go to a local shop to have pistons and rods fitted. After that the engine build up should proceed fairly smoothly.
Roger showed some new leads he has in locating bearings for the Fokker D.VII's Gipsy Queen engine. In addition, the English gentleman he was negotiating with has agreed to provide bearings as part of his swap for some Thomas-Morse parts. Hopefully we will have bearings for our engine soon.
The Piper Cub is back together and the engine apparently is fine, though Roger says he thinks he'd better build up a new bottom unit to have a ready spare! This is one of the most popular regular flyers on the property!