Volunteer Work Day
August 1, 2009
Reported by Ron Marcotte and Al Sumrall
We had a pretty productive workday on Saturday. Turnout was a bit lighter than usual, but not bad for the summer.
Billy Cheshire, Chili Ornelas and Ron Marcotte worked on the Pietenpol, which had been spewing water out of the radiator and then overheating. We dodged a big repair when the trouble was found in the radiator cap. After that, the cooling was excellent and the motor settled at 172 deg at full RPM. The prop was switched out for a better one and the engine hit just over 2000 RPM, but with some rough running at top RPM. Chili got his baptism of fire as a prop flipper and managed to start the Pete and the Cub. Not the way you start a jet, eh, Chili?
So now we are down to the water drip from the head gasket (to be replaced). We hope the high RPM breakdown is related to some arc over in the old ignition wires (to be replaced) and possibly the magneto cap. It's getting close folks!!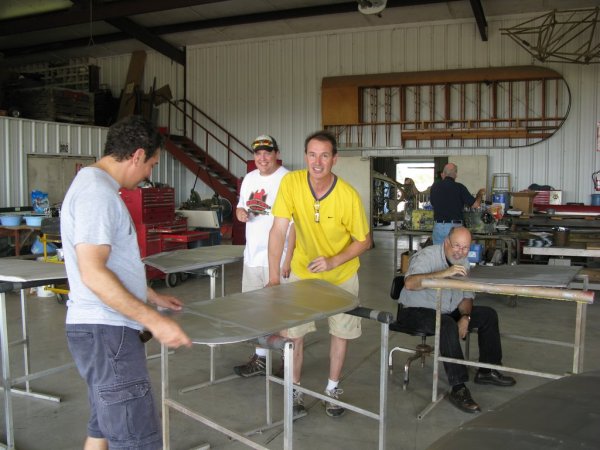 The Tommy got a lot of silver dope and sanding done, led by Tom Miller and assisted by Carl Canga, Karl Holbert and newcomers Dave Orloff and Dave Edgerly. I saw Tom and Dave both learning how to use the spray gun with silver dope. Tom was dismayed (disgusted?) to learn that there were still 2(?) more wing panels still to be done. Two biplanes = eight wing panels. PHEW!!
Al Sumrall and Joe Bruno worked on the Indian motorcycle. The intake manifold was removed, cleaned and the intake sleeves polished to improve fit. A gasket was made for the carb/manifold. This took a while as reinstalling the manifold correctly involved loosening the cylinders...which required this and that to come off before the job could be done. The good news is that after the trial fitting, not even any sealer applied, the bike ran much better (due to a better mixture flow and fewer leaks) and now both cylinders are firing. Al is doing some investigation as to whether it is now worth it to apply sealer. Roger ran the Indian a bit to test the engine. I know Roger wants a bike that will do more puttering around than go fast, but this Indian has some performance inherent in the design and although it is ninety years old it still wants to GO. We now have to work on the clutch linkage to see if we can get better clutch/tranny performance. We noted that with two cylinders firing the throttle and spark advance work better.