Historian League Visit
October 17, 2009
Reported by Tom Gaylord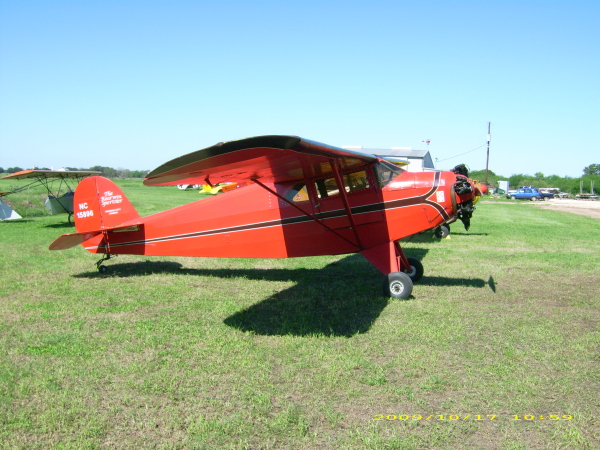 The League of WWI Aviation Historians (www.overthefront.com) held its bi-annual symposium in San Antonio and the final activity planned on their agenda was to visit Old Kingsbury Aerodrome.
The volunteers who showed up worked throughout the morning to get everything set up. Since the weather was nice everything was brought out of the hangars. Surprisingly - the hangars needed sweeping again, even though that had been done just the weekend before. The shop hangar was the worst.
Everything out in the sun sure made for an impressive display. A couple of airplanes were washed off a bit to improve their appearance. Jon White spent a lot of time on the Rearwin Sportster and it really looked great!
Bill Walsh set up signs and brought in name tag materials and beverages for the volunteers and our guests.
The League's tour bus held 57 passengers, but the group was too large and so members started trickling in by private car at 1 PM. The bus actually arrived at 1:40 PM. We didn't fly anything for them, but we did run the Triplane and the Canuck - that happened at 2:30 PM.
I overheard several PFM members say that they learned a lot from our visitors, and I know the visitors appreciated the displays. For my part, there were so many reknowned WWI aviation authors in the group it was amazing! As an added bonus - Fred Murrin, the U.S.'s premier expert on rotary engine rebuilding was among the visitors.
Terry and Jerrie Bledsoe ran the merchandise stand and managed to pull in some money (have no idea how much), and the donation box was out!
All in all, a fun day that went very well.
Our thanks to the volunteers who made this all happen!