Volunteer Work Day
February 6, 2010
Reported by Al Sumrall
The the unofficial workday had about 9 people...it was still very very wet ground although the weather was Ok.
No vehicle work...I was the only team vehicle guy present (this part is a lie as you will see below) and you know I really don't do work.
It was a pretty relaxed day but some important things got done. Terry and Sanford got the exhaust manifold back on the Myers....looked easy at first but wasn't. Also more clean up was done above the office area, it is now possible to walk around up there. A team got the wing off the Lakes (also proved difficult) but as they were assisted by Tailspin the Wonder Dog the work got done. Tailspin is the newly adopted airfield pooch (not quite official yet) as the owner may magically apparent (unless she was abandoned). Tailspin inspected everything and moved stuff around and chewed on most of what she moved around. In spite of Tailspin being in everyone's business (ahem, with the assistance of Tailspin) the wing finally came off and Roger Freeman assisted by some of the crew did a course on how to repair the wing and recover the affected area.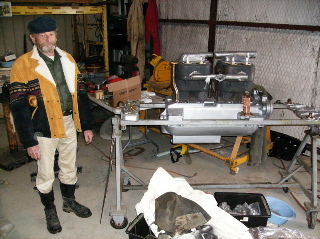 Actually there is another team vehicle guy who was present that we often take for granted but who is doing awesome work on the FWD WWI truck. Jon Van Den Enyde in the Dave Orloff submitted pictures is shown with some (only a small part) of the FWD work he is doing. That is some engine. Jon recently also donated a TV/DVD player to PFM. He is restoring the FWD the right way, piece by piece and doing an amazing job.
Ah yes, I inspected the damaged Dr.I (you should have seen the faces when I mentioned that I had looked at the damage on the Dr.I --- the response was "WHAT DAMAGE TO THE Dr.I) and it was not as bad as I initially thought. Oh, yeah, the Weathervane Dr.I whose upper wing was torn off during the bad weather earlier in the year.
It's fiberglass, and I see that it can be repaired by "merely" remaking the upper wing cabanes...only one fitting actually broke, the other cabanes broke off above the fittings. So if the bolts can be removed it is just a matter of making new cabanes and reinforcing them.
---