Volunteer Work Day
October 2, 2010
by Tom Gaylord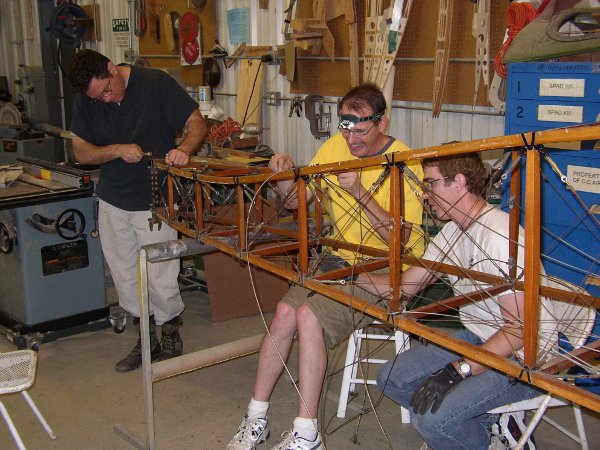 We had a day of excellent weather and our volunteer turnout was pretty good - we got a lot of work done! In addition, the field was hosting a large R/C airplane meet so there was a constant buzzing of flying machines around the place.
As usual - I am not too informed about Team Vehicles activities aside from knowing some cars were started and driven. I don't know why, but I don't consider the motorcycles to be part of Team Vehicles....
Projects for the day
T2 anti-chafing pads - Don Larsen and Bob Gardner saftey wired in the anti-chafing pads on the T2 fuselage. These little leather discs get safety-wired between the bracing wires at each fuselage bay. They probably had to do some 60 pads to finish the fuselage. T2's fuselage has been re-varnished, the fittings repainted and the anti-chafing pads installed. Might be time to start putting equipment back in!
Tom Miller (complete with headlamp!), Carl Canga and Jeff Basham continued refurbishing T1's fuselage. I believe the scraping of old varnish has ceased and they have turned their attention to the metal fittings, turnbuckles, and bracing wires. Most of the work so far has been done on the rear half of the fuselage. I am not sure the front half has been cleaned yet!
Dave Miller fired up one of the tractors and mowed large swaths of grass. He made good progress until he started interfering with the safety zones required by the R/C flyers. They chased him off the field!
There was also a crew working on the T2 wing panels. 3 of the 4 wing panels for T2 have now been covered and doped. At least 2 (I believe) have been taped and holes punched for rib stitching. One more wing panel (and maybe the ailerons) still need covering.
Doug Hortvet returned for more abuse form the Indian motorcycle / sidecar. Doug is slowly winning this war! His first order of duty was to procure a broom to sweep the dirt off the bike! He was still chasing gremlins in the fuel system.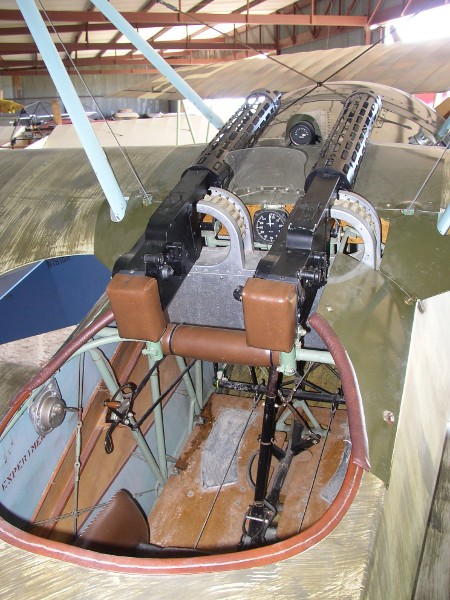 Putting the Spandau replica guns back on the Triplane - at our upcoming Fall Fly-In (November 13th - mark your calendars!) we anticipate having a Nieuport 28 replica AND a Sopwith Camel replica attending, so our Triplane will need its guns against those two worthy adversaries! Dave Miller and Tom Gaylord took the guns off the Fokker D.VII and returned them to the Dr.I Triplane. It took all morning - mainly because these two fumble fingered volunteers dropped parts and tools and because the clearances are tight! They kept having to take parts off to fix their last goof but they finally succeeded and got everything buttoned back up. A few screws were missing from fairing panels and those were replaced so things are actually better than they were before these talented guys went to work! Whew!!
Dormoy Bathtub - the Whitlocks did some work on the Dormoy, though I have to confess I don't know what work they were doing. Could the Dormoy be flying soon?
The Maytag Motorbike was whizzing around the place, as well as the KIngsbury Special. Al Sumrall used the Kingsbury Special to fetch tools and parts for Doug, so I included a photo of Al demonstrating the cargo carrying capacity of the Kingsbury Special!! C'mon, Al! This is Kingsbury - you don't know where that thing has been!
Team Vehicles
by Al Sumrall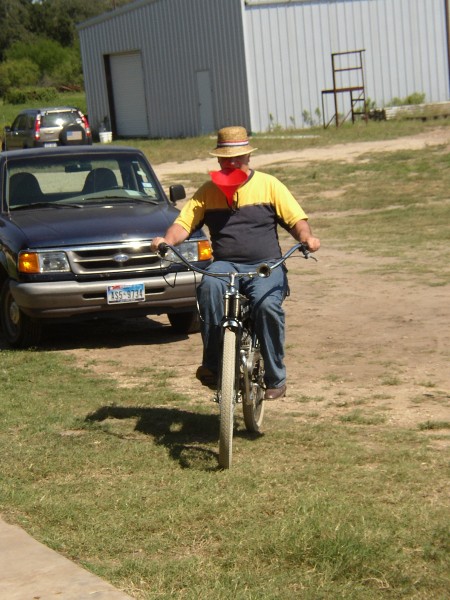 You know I always sink my teeth into projects! I have decided that a courier-type bag is needed (not a purse!) to supplement the parts hustling aspect of the Kingsbury Special (NOT FLYER! It isn't a bicycle anymore!). Although the Kingsbury Special now requires some relearning of starting techniques, it's really fast on the upper end, am learning how to drive it properly. It really goes. The Maytag also looks great in its green and black paint. Hopefully we will have four vintage looking motorized bikes puttering around at the air fair....they are good utility transportation across the field as can be seen by my fetching of the funnel.... only took a minute or so to run over to the old hangar and bring it back. Walking wears me out!
I tend to agree that motorcycles (not the motorized bicycles mentioned above) are a different grouping than vehicles....I think we need a team Motorcycles to work with the Indian and Triumph.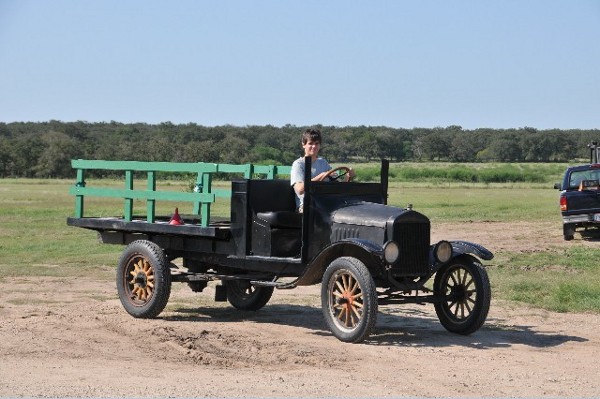 We only ran the TT this last workday, actually the Whitakers did. Cameron put on alligator fittings to the TT's battery cables...this is the way to go for all the Ts and Cameron indicated he is going to do it for all of them, makes battery removal and attachment a snap!
I tried but could not find the transmission belts I had purchased for the wrecker some years ago, have stumbled over them for years but now can't find them (isn't that the way it usually goes?). They are in a flat box about 2 inches high and 12/12 inches, sort of a small pizza box. If anyone sees them let me know.
I did find two original unused belts. Lynn wants to replace the tranny belts on the wrecker and it is definitely time. We would probably be better off with Kevlar but it's expensive.
Doug on the Indian has become a war (Doug has the patience of Job). Doug installed a new fuel line to the Indian and it appears the fuel woes are now over thanks to Mike McMains. However we still have electrical and carb issues and we took a step backward as we can't get the Indian to fire now (only getting spark to the front cyclinder but the front cylinder doesn't seem to be getting fuel--grrr). We have a jury rigged mag and an old carb......but Doug is still wrestling with it. Any motorcycle engine expertise is needed to help.
---