When the United States entered World War I in 1917, we found that our aviation establishment had fallen well behind that of Europe. The U. S. Army in January, 1917 had only 73 airplanes in service, with an additional 300 or so under order. None of these planes was suitable for combat use in Europe. One of the most advanced U.S. designs was the Thomas-Morse S-4 scout, which went into production in June of 1917. It carried a single machine gun, and had a top speed of about 100 mph, which didn't compare well with front-line fighters in Europe carrying two guns and capable of over 130 mph. As a result, the S-4 series were relegated to use as advanced trainers.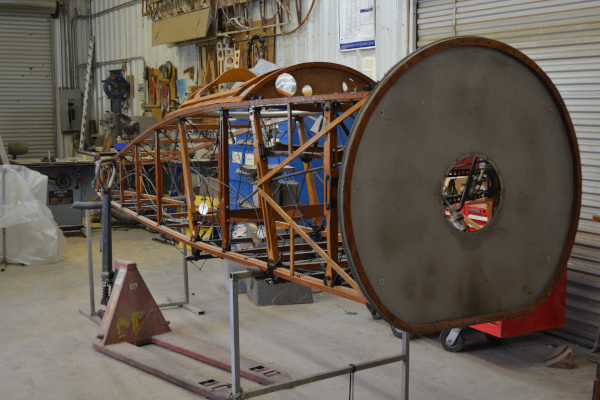 The S-4C scout (commonly known as the "Tommy") went into production in 1918. Although the first fifty-one were built with a 100-hp Gnome 9B-2 rotary engine, most used the more reliable 80-hp LeRhone 9C rotary engine. Of the more than 400 S-4Cs built, 461 went to the Army. They were quite popular aircraft with good flying characteristics and many survived the war and went on to service in Hollywood, where they appeared in many of the popular WWI aviation movies of the 1920s and 1930s.
The Museum's S-4C is an original aircraft that has been restored. It uses a copy of the LeRhone rotary engine license-built by Curtiss Aircraft.
General characteristics
Length: 19 ft. 10 in. (6.05 m)
Wingspan: 26 ft. 6 in. (8.08 m)
Height: 8 ft. 1 in. (2.46 m)
Seats: 1
Max. Speed: 97 mph (156 km/h)
Empty Weight: 963 lb. (437 kg)
Armament: 1 .30 caliber M1917/1918 Marlin-Rockwell machine gun